29/06/05
Eastland Cash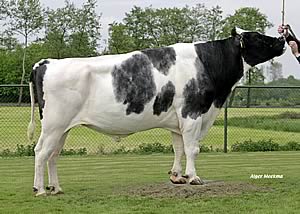 After more than 14 years, the life of top sire Eastland Cash has come to an end. For years Cash has written breeding history. Breeders valued Cash because of his durable and persistent daughters. HG has sold 1.2 million doses of semen of this super sire worldwide.

Eastland Cash (Sunny Boy x Cleitus) was bred by the Oosterink brothers and was born on their farm on 7 February 1991. On 10 May of the same year he was moved to the barns of HG.

In August 1995, Cash broke through as one of the first sons of Sunny Boy and immediately became the most influential one. He entered the sire line-up at HG and has been one of the most popular sires ever since.

Today, thousands of farmers milk daughters of Cash. Trouble free cows with high longevity and good production. Just recently, one of his test period daughters reached the 100,000 kg mark, and the expectation is that many others will follow.


Influence in breeding

As a father of sons, Cash has delivered a number of good bulls, with Laurenzo as the best example. Like his father, Laurenzo remains one of the most popular sires, as he has been for years now. Cash also delivered successful grandsons. Bulls like Rafael, Nevada, Stilist and Obelisk all hold a strong position in the current HG sire line-up.

On the AI station in Giekerk, Cash managed to reach the ripe old age of 14 years. Recently a picture of Cash was taken which clearly shows that he was a top class bull until the end, and this picture can be found in the attachment. The availability of Cash semen is restricted.