EBLEX Butchery Contest Showcases Beef Cuts
2009-06-01
Six butchers went head to head to see who had the best cutting and display skills in a showcase competition.
Clive Brown, Western Regional Manager for
EBLEX, with overall winner John Brereton.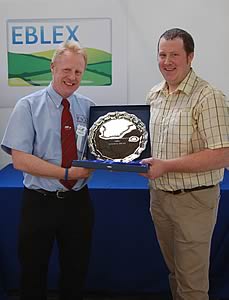 John Brereton, of Shropshire, came first in the display, second in butchery and took the overall prize in the Farm Shop Beef Butchery and Display Competition, organised by EBLEX at Beef Expo, in Malvern.
Robert Nicholson, of Yorkshire, took top spot in the butchery contest, coming in third in the display section, while Stuart Cove, of North Yorkshire, came second in the display and third in the butchery.
Each entrant was given two primals and had to come up with eight different meat cuts and four beef burgers. These then had to be arranged in a display cabinet in the most attractive manner for the customer.
"The event helped demonstrate the high level of skill of farm shop butchers and the variety of different cuts that can come from quality beef," said Clive Brown, Western Regional Manager for EBLEX, who presented the overall trophy.
For those farm shop butchers in the West Midlands who are looking to display their talents, a similar Farm Shop Butchery and Display competition for beef and lamb will be held at the West Mids Show, in Shrewsbury, on June 27 and 28. Again sponsored by EBLEX, entries must be received by June 12. Please call 01743 289831 for more details or to request an entry form.

EBLEX at Beef Expo 2009


Full Steam Ahead for the Three Counties Show


Crowds Throng to Beef Expo 2009