Cumberland Show Moves to Carlisle Racecourse
2009-11-18
The Cumberland Show will take place at a new and exciting venue next year when it is staged for the first time at Carlisle Racecourse.
This year's event at Rickerby Park was cancelled at 5am on show day after police warned that the River Eden was in danger of flooding the showground.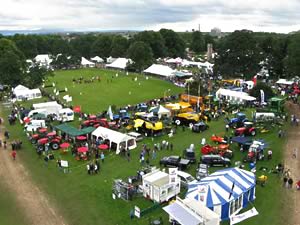 Organisers hope that up to 20,000 spectators will attend the 2010 show on Saturday July 17, spread across its vast and modern new location.
The historic one-day event, which dates back to the 1830s, is moving away from the city's Rickerby Park where it has been held since 1991.
The 2009 show had to be cancelled for safety reasons on police advice after heavy and persistent rain caused flooding on the riverside showground. Wet weather had also hampered the two previous shows at Rickerby Park in 2007 and 2008.
Besides being less prone to flooding, the racecourse also offers a range of modern indoor and covered facilities as well as a vast amount of open-air space on both grass and hard surfaces for use by visitors, exhibitors and livestock.
Show secretary Donella Rozario said: "We are looking forward to starting a whole new era for the Cumberland Show at Carlisle Racecourse. The racecourse has the sort of infrastructure which would never have been available to us at Rickerby Park, where we had to put everything in temporary marquees, bring in toilets and electricity and fence it all off. The racecourse will make things a lot more professional. It is a tremendous boost and will inspire us to give the show a new look to match its new location , including a Festival of Farming and Food to catapult the Cumberland Show into the future."
The show is open from 9am to 6pm and is run by the Cumberland Agricultural Society, which is a voluntary organisation. It has become known as Cumbria's Best Day Out, bringing the countryside to the town. A major part of it features agriculture, with 300 cattle, 500 sheep and 800 horses on show, along with goats, rabbits and poultry and a Kennel Club dog show. There is also a line-up of headline acts in the main showground as well as a food hall with cookery demonstrations, children's model farm with activities, craft fair, mini fairground and 200 trade stands covering shopping, agriculture and cars.
John Baker, the racecourse's managing director, said: "We are delighted to welcome the Cumberland Show in 2010. It is one of the best-loved annual summer events staged in Cumbria. We are looking forward to working with the Cumberland Agricultural Society to develop the show for the future, both in terms of its infrastructure and audience. We are sure our facilities here will prove very popular and be ideal for spectators and exhibitors and all the animals being shown in it."
The racecourse had offered to stage the Cumberland Show back in July after this year's event at Rickerby Park was cancelled at 5am on the day it was due to take place after police warned that the River Eden was in danger of flooding the showground.
Donella added: "We are still concerned that something similar could happen again down at Rickerby Park because of its location and the wet summers we are now having. The site there is completely surrounded on three sides by the River Eden. We were worried about going back there and about it flooding again."
The show, which has previously been staged at Bitts Park, costs a six-figure sum to stage each year. It suffered a substantial loss because of this year's late cancellation. However, this was nearly halved thanks to the generosity of sponsors and other participants agreeing to waive their refunds. The deficit was met out of the show's reserves fund, which had been built up over many years. The show is always insured but has never been covered for cancellation, although it will be from now on. It attracted a crowd of around 16,000 in 2006, which was the last time it enjoyed good weather.
A full range of facilities right across the racecourse will be in use during the Cumberland Show. The animals will be shown on the grassy central area in the middle of the horseracing tracks. The food hall featuring local producers will be in the Bell Bar, while the restaurant above will be used to feed the show's mini army of 400 volunteers and helpers. The racecourse offers easy access from J42 of the M6 and is on a bus route as well as generally being less hemmed in than Rickerby Park.
For further information about the 2010 Cumberland Show, log on to www.cumberlandshow.co.uk . Tickets are available on-line from that website and on 0845 2305177, with a 10% reduction if bought in advance. Tickets cost £12 for adults, £5 for schoolchildren or £28 for a family of five, with up to two adults and three children. Car parking is free.

Quality Commercial Stock Dominate East of England Winter Festival


Three Counties Show Expands to Accommodate More Animals


English WInter Fair 2009