Chelford Beef Shorthorn Females Peak at 2,550gns
2010-11-09
Beef Shorthorns sold to 2,550gns at the society's autumn show and sale at Chelford on Saturday 6 November where spirited bidding from a packed ringside led to an 85% clearance reflecting the beef sector's interest in the breed as a functional suckler cow.
The day's champion, Meonhill Highland Commando at 2,400gns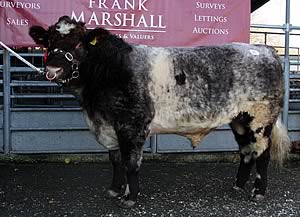 The day's leader at 2,550gns was Aylward Blythesome 22, one of a draft from David Rutherford's Odiham, Hants based herd. Blythesome 22 was an Uppermill Lasoo daughter and out of a homebred dam going back to Wenmar Lucious. She was sold in-calf to Tofts Judgemental to James Fanshawe, Naseby, Northampton.
Next in the ring was Aylward Gypsy Rose 4, again by Uppermill Lasoo, out of Aylward Gipsy Rose 2 and sold in-calf to Tofts Judgemental. She made 2,000gns to GH Towers, Wellford, Northampton.
A bid of 1,950gns was made by Robert Leach, Banbury for Aylward Blossom 5, another Lasoo daughter, out of Wenmar Augusta Blossom and sold in-calf to Tarrant Waverley. The maiden heifer trade was led at 1,600gns by Aylward Rothes Queen 41, an 18 month old by Eionmor Highlander to N Hague and Sons, Kenilworth, Warwickshire.
The pre-sale show sponsored by Osmond Nutrition and Blue Merle was judged by George Somerville, Crocketford, Dumfries who found his overall supreme champion in Meonhill Highland Commando, a 20 month old bred and exhibited by LEP Farms, Hambledon, Hants. Sired by the multi show winning Eionmor Highlander, he led the bull trade at 2,400gns to Jeff Townsend, Marchwood, Southampton.
Next at 1,520gns was the 18 month old Camlas Captain from Messrs Gethin, Newtown, Powys to RW Newns, Mold. A Hannibal 1 of Schonberg son, he was out of the Chapelton Provost sired Maxton Cinderella 2.
Other leading female entries included a couple of heifers by Llanarth Titan and in calf to Llanarth Centaurs Ethan from Mr and Mrs K Mitchell, Llanarth, Ceredigion. At 1,880gns Robert Leech secured Llanarth Flora who earlier on was award the day's reserve championship, while Llanarth Fleur made 1,500gns to M and I Read, Stafford.
Averages: nine cows with calves £852.83; one in calf cow £892.50; three in calf heifers £1,455.99; three maiden heifers £997.50; four bulls £1,775.

Aylward: five cows with calves £1,211.70; five in calf heifers £1,839.60; four maiden heifers £1,287.50; one grading up in calf £892.50.
Auctioneers: Frank Marshall

Calf Show Impresses Scottish Angus Judge


Good Entry of Welsh Black Cattle at Abergavenny


Semex Launches New Beef Range