Meat Trade Buyers Again Prominent at Skipton Primestock Ringsides
Strong meat sector demand was again experienced at Skipton Auction Mart's latest weekly Monday primestock sales, as regular retail and wholesale customers sought to keep both their own and supermarket shelves and fridges fully stocked with quality locally reared beef and lamb in the current climate.
In fact, sheep were dearer on the week by some margin, with the 2,747 prime hoggs forward levelling at 242p/kg, or £103.89 per head. All classes were very good to sell, with an increased attendance of buyers all keen to secure supply, hill-bred lambs looking every bit as well sold as lowland types.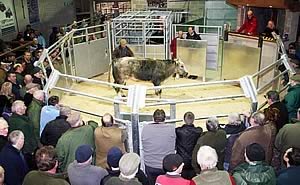 Retail butcher interest from around the area was clearly evident at the prime cattle ringside for the under 30-month clean cattle on offer from regular vendors.
Taking top call both on price and by weight were Dales duo, Charles and Richard Kitching, of Grisedale Farm, Threshfield, first with a 645kg British Blue-cross heifer sold at the leading gross price of £1,454, or 225.5p/kg, to Simon Barker, of the mart-based Barkers Yorkshire Butchers, who bought two cattle.
The Kitching brothers, whose six-strong consignment all sold well, then claimed a per kilo high of 236.5p, or £1,407, with a 595kg Limousin-cross steer that became one of two acquisitions by Paul Ellison, of Ellison's Butchers in Cullingworth.
Malham Moor's Bill Cowperthwaite also caught the eye with several entries, including a brace of Limousin-cross, a heifer at £1,313 (222.5p/kg) and a steer at £1,194 (197.5p/kg). The former fell to Halifax wholesalers Gerald Medcalf & Son, the latter the second purchase by Ellison's.
James Robertshaw was again on hand to claim a brace of cattle for his own Robertshaw's Farm Shop in Thornton, while Kendalls Farm Butchers also purchased one for its two shops in Pateley Bridge and Harrogate.
There was also cause for encouragement in the cull cow arena, with buyers keen to snap up a small turnout of mainly Friesian type dairies. Heavy cattle could make 100p/kg-plus and there was no shortage of customers for young cattle and plain types with scope for feeding.
The overall selling average of £665.23 per head was up almost £27 on the week, while the per kilo average of 91.83p represented only a slight fall. BH Wilson & Sons, from Green Hammerton, consigned eight black and whites, which peaked at £889 and 104.5p/kg.
A modest entry of 1,018 prime sheep, comprising 972 hoggs and 46 cull ewes, was placed before a ringside of buyers who also purchased on behalf of other end users in line with current recommendations to double up with other buyers in a bid to reduce numbers attending the market.
Prime hoggs sold to an overall average £85.36 each, or 186.4p/kg, and while the price per head showed an anticipated fall on the week, the selling price per kilo was not too far below that of the previous Monday.
Trade was described as two-tier, with handyweight and lightweight lambs selling in line with expectations, though commercial heavy lambs were sticky, with only the smartest butchers' sheep getting away over £100 per head.
Pence per kilo, it was Brian Church, of Askwith, who topped the market at 319p with 36kg Beltex at £115, purchased by returning retail buyer Anthony Swales for his Knavesmire Butchers in York. He also claimed a second 39kg Beltex pen at £118, or 302p/kg, from Andrew Phillips, of Burton Leonard.
Joint top per head call of £124 was achieved on two occasions by Texels, first from the Hutchinson family in Faceby, then Banks Farm, travelling north from Worksop. The former also fell to Knavesmire Butchers, the latter to Felliscliffe's Andrew Atkinson, purchasing on behalf of one of his regular wholesale customers, Hartshead Meat Co in Mossley.
Commercial handyweight sheep sold from 190-210p/kg, while the Hutchinsons were once more to the fore in the cull ewe arena, heading the prices, again with Texel pens, at £119.50 and £118.50. Cull ewes averaged £74.99 and cast rams £73.67.
A reduced entry of 15 rearing calves nevertheless attracted regular buyers, some operating multiple accounts, again in line with current recommendations.
The Bolland family, from Airton, topped both Continental sections with a £240 Limousin-cross bull calf and a British Blue-cross heifer calf at £230. Bobby Aberdeen-Angus bull calves were around £160 up to £180.
The mart says that with an increasing number of buyers bringing fresh orders on a weekly basis more calves of all types are urgently required, among them Blue-cross bulls, along with younger commercial Continental and native calves.